Numerous performers from all over the world applied to be part of the 2018 Denver Union Station Buskerfest.
Our jury selected the following exciting group of artists for this year's line-up.
New Creations Brass Band
Straight outta Louisiana, New Creations Brass Band​ plays Second Line music and New Orleans' jazz, invoking the spirit of The Big Easy. This young group of musicians -- brought together by their love for making great, contemporary Second Line music, -- have studied, played with, and lived around several greats like Shanon Powell, Shamarr Allen, and Trombone Shorty.
Sharon from Canada
Sharon Mahoney is an international comic, actress and award-winning street performer. Sharon performs a comedic character for street performance and variety shows and has traveled worldwide including Australia, Europe, Dubai, Singapore and North America.  Highlights include the Melbourne International Comedy Festival, Edinburgh Festival, Glastonbury and the Christchurch World Buskers' Festival in New Zealand. http://www.sharonmahoney.com/
Snap Boogie
This native of Boston, Massachusetts has been described as a "BEAST" on the dance floor, with a career that started by performing in the streets, to his impressive national debut, in the summer of 2011, on NBC's America's Got Talent Season 6. He blew the minds of the audience and judges with his incredible high energy take no prisoners style. As his popularity grew, he landed a lead role in the movie "The Way Way Back", in 2013, and has been traveling the world ever since. http://beautyinthestreets.com/
Her Majesty's Secret Circus
Agents Honeymoon and Butterfly are two highly trained operatives saving the planet from boredom one show at a time. They shoot the world's only bow and plunger-arrow high into the sky and catch it on a tiny target, on a giant stealth cycle, in ridiculous action suits. Aided by moderately high IQs, audience sleeper agents, and all the elements of a spy thriller spoof, this spy-fi stunt show is comic espionage at its finest. www.secretcircusshow.com
Bekah Smith
Bekah's high energy show is perfect for audiences of all ages. Her impressive juggling and uni-cycling acts combine with her contagious excitement. https://www.bekahjuggler.com/
Giant Parade Puppets
These 18ft tall puppets shake hands with guests, give group hugs, and even attempt to steal the hats of the unwary! https://stiltwalker.com/
Derek Derek
Chinese pole acrobatics, audience participation, nerdy dancing, silent clowning, a family friendly striptease and, of course, a love story is the recipe for the fantastically funny busker.
Derek is a skilled juggler, diabolo master, brilliant clown and aerialist, who is constantly pursuing his dream of making memories for the people he is lucky enough to have as an audience.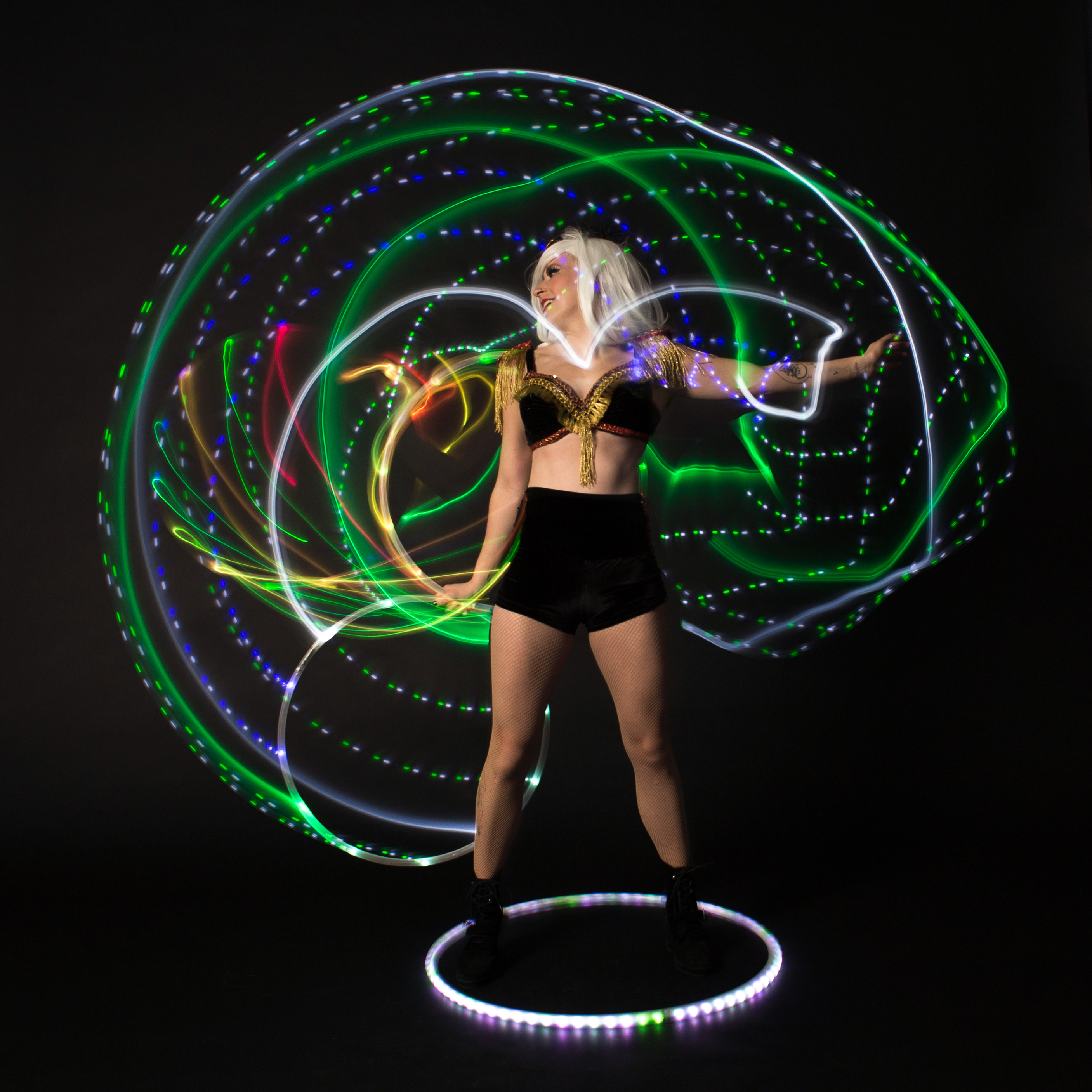 Staza Stone
Staza Stone does stuff. Swinging stuff, spinny stuff, stilt stuff, sparkle stuff... all the stuffs. She is a multi- faceted performer based out of Denver, CO. Being in the circus game only since 2013, and at a mile high, she is still finding her voice. She is an aerialist, stilt walker, hula hooper, fire dancer, and clown. Coming from a musical theater background, Staza loves vaudeville and variety. She wants to use circus as a tool to unlock the imagination through story-telling. She graduated from Frequent Flyers Productions Aerial Dance Program in 2014. Currently Staza can be found performing both nationally and internationally in a variety of circus extravaganzas. She tours with the bands MarchFourth and Sepiatonic, has performed aerial 70ft up with The String Cheese Incident and has shared the stage with many talented artists. She works for companies such as Insomniac, Madison House, Team EZ, Mesmerie Entertainment, The Phantom Circus, Nova Han Productions and many more. You can also catch her teaching locally in Denver at MOTH Contemporary Circus Center, the Denver Circus Collective, Live Beyond Limit and Denver Dance. She has competed in US Aerial Championships, Circusstar USA, and in 2018 won gold in the all-star sling category at the St. Louis Aerialympics. Check out her instagram for up to date performance and workshop information.